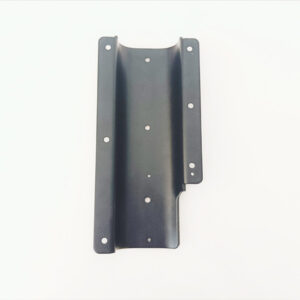 The principle of electrostatic spraying process is the use of the corona discharge principle makes the atomized paint in the high-voltage electric field under the action of suction discharge to make the paint attached to the surface of the workpiece of a coating process, mainly by the spray gun, spray cup and electrostatic spraying high-voltage power supply, etc., so why more and more people are keen to choose electrostatic spraying process?
1、Reduced the waste of paint. The use of electrostatic spraying processing process can increase the number of pigments attached to the surface of the workpiece to a greater extent.
2、Improve the appearance of sheet metal workpiece. Electrostatic spraying can make the sheet metal workpiece look new, and can renovate some sheet metal workpieces that have been used for several years, making them look new.
3、Improve the efficiency of the work. Electrostatic spraying is fast, easy to dry, faster drying than wet spraying method, no high temperature baking, so it can improve the efficiency of spraying.
4、Strengthen the corrosion resistance of sheet metal workpiece. If the sheet metal workpiece needs to be exposed to the air for a long time, the electrostatic spraying process can improve the corrosion resistance of the sheet metal workpiece to a large extent.
Custom Metal Box Manufacturers | Custom Sheet Metal Enclosures | Custom Aluminum Box | Custom Sheet Metal Boxes | Custom Metal Boxes | Sheet Metal Supplier | Steel Box Manufacturers | Sheet Metal Box Manufacturers | Custom Made Metal Boxes | China Sheet Metal Manufacturer | Outdoor Vending Machine Enclosures | Equipment Enclosures | Machinery Enclosures | Machine Enclosure | Machine Enclosures | Industrial Machine Enclosures | Metal Enclosures for Electronics | EV Charger Outdoor Enclosure | Outdoor EV Charger Enclosure | EV Charger Enclosure | Custom Aluminium Box | Custom Steel Box | Metal Box Supplier | Metal Enclosure Manufacturer | Sheet Metal Enclosure Manufacturers | Metal Enclosure Box Manufacturer | Metal Enclosure Manufacturer | Aluminium Box Manufacturer | Outdoor Equipment Enclosures | Enclosure for EV Charger | EV Charging Enclosure | EV Charger Enclosure | Aluminium Box Manufacturers | Equipment Enclosures Metal | Sheet Metal Enclosure | Metal Enclosure Box | Metal Enclosure | Enclosure Box Price | Sheet Metal Manufacturers | Sheet Metal Manufacturing companies | Custom Made Aluminium Boxes | Custom Made Metal Box | Aluminum Sheet Metal Fabrication | Aluminium Sheet Metal Fabrication | Auminium Tool Boxes Made to Order | Custom Metal Enclosures | Custom Stainless Steel Box | Custom Made Aluminum Boxes | Metal Box Manufacturers | Custom Steel Enclosures | Custom Stainless Steel Enclosures | Custom Metal Box | Custom Aluminium Box