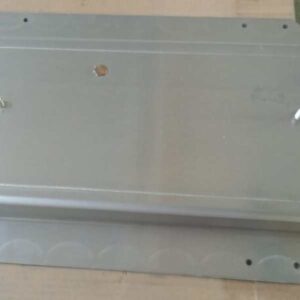 Sheet metal processing thick plate refers to the steel plate with thickness greater than 4mm in sheet metal processing. Normally, thick steel plates can be divided into three types: medium plate, thick plate and super thick plate. The more common deformations of sheet metal working thick plates are the deformation of the medium plate and the slow bending deformation after the medium plate. I introduce how to manually straighten a sheet metal working thick plate.
Manual straightening is cold straightening at room temperature, which is only applicable to steel with good plasticity due to cold work hardening. If a thick steel plate is deformed in the middle during sheet metal processing, the specific operation is to first place the plate on the working platform so that the raised part faces upward and apply some pressure to the upper part of the surface of the deformation area caused by the surrounding material. It has great rigidity in the plane direction. At this time, the material in the deformation zone is subjected to a force state similar to the transverse load of an arch beam, so the fibers are shortened and deformed to achieve a flattening effect.
In the process of thick steel plate straightening, if the deformation of the deformation zone is small, a larger load straightening method is suitable. In the case of a device with higher pressure, a device with reduced force can be used as much as possible. For the labor intensity of the operator, you can also use a pad and hit the bumps of the metal plate directly with a sledgehammer.
If the deformation is more complex thick plate, then the staff must first correctly analyze the causes of deformation and the parts of the deformation, and correct the deformation of each part, and learn to use various correction methods according to the specific situation.
Custom Metal Box Manufacturers | Custom Sheet Metal Enclosures | Custom Aluminum Box | Custom Sheet Metal Boxes | Custom Metal Boxes | Sheet Metal Supplier | Steel Box Manufacturers | Sheet Metal Box Manufacturers | Custom Made Metal Boxes | China Sheet Metal Manufacturer | Outdoor Vending Machine Enclosures | Industrial Machine Enclosures | Metal Enclosures for Electronics | EV Charger Outdoor Enclosure | Outdoor EV Charger Enclosure | EV Charger Enclosure | Custom Aluminium Box | Custom Steel Box | Metal Box Supplier | Metal Enclosure Manufacturer | Sheet Metal Enclosure Manufacturers | Metal Enclosure Box Manufacturer | Metal Enclosure Manufacturer | Aluminium Box Manufacturer | Outdoor Equipment Enclosures | Aluminium Box Manufacturers | Equipment Enclosures Metal | Metal Enclosure Box | Metal Enclosure | Enclosure Box Price | Sheet Metal Manufacturers | Sheet Metal Manufacturing companies | Custom Made Aluminium Boxes | Custom Made Metal Box | Aluminum Sheet Metal Fabrication | Aluminium Sheet Metal Fabrication | Auminium Tool Boxes Made to Order | Custom Metal Enclosures | Custom Stainless Steel Box | Custom Made Aluminum Boxes | Metal Box Manufacturers | Custom Steel Enclosures | Custom Stainless Steel Enclosures | Custom Metal Box | Custom Aluminium Box | Sheet Metal Fabrication Supplier | China Sheet Metal Fabrication | Custom Sheet Metal Fabrication | Sheet Metal Fabrication Services | Metal Manufacturing in China | Aluminum Box Fabrication | Sheet Metal Box Fabrication | Sheet Metal China | Precision Sheet Metal Fabrication | Custom Aluminum Box Fabrication | Custom Metal Box Fabrication | Sheet Metal Manufacturing | Metal Manufacturing Company | Metal Bending Services