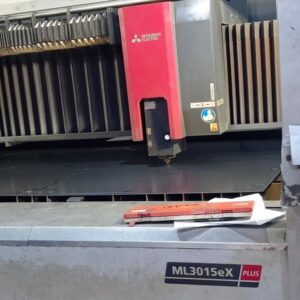 Nowadays, many common items in our life are manufactured by sheet metal processing, from large to bus station billboards, refrigerators, lockers, etc., to small to cell phones, some size mechanical parts, accessories, etc. All the above listed items need to be cut or bent. Metal cutting is one of the processing, the following is about the four ways of metal cutting, please follow me to understand.
One: Cutting by cutting saw. At present, many metal sheet metal processing plants commonly use cutting saws as a metal cutting method, generally with a click-driven cutting saw blade rotation, used to cut metal and other objects;
Two, electric welding cutting. This cutting method is to first melt the metal with flammable gas, and then cut it. The flammable gas generally used is acetylene, and sparks will be generated when cutting, so the operator needs to pay attention to protection when carrying out the operation;;
Third, cutting wire. This cutting method uses molybdenum wire to cut the metal, in the equipment molybdenum wire running at high speed to achieve the role of cutting.
Fourth, plasma cutting. This cutting method uses gas as the conductive medium, and the gas has the heat to directly melt the metal, and the molten state of the metal can be cut directly after the hardness drops.
Dongguan Jiatong precision hardware products limited liability company currently has three laser cutting machine: respectively, two Japanese Mitsubishi laser machine, 3500W and 4500W power each one, AMADA/3000W power fiber laser machine of one, can provide professional production solutions and sheet metal products, if needed, welcome to consult.
Custom Metal Box Manufacturers | Custom Sheet Metal Enclosures | Custom Aluminum Box | Custom Sheet Metal Boxes | Custom Metal Boxes | Sheet Metal Supplier | Steel Box Manufacturers | Sheet Metal Box Manufacturers | Custom Made Metal Boxes | China Sheet Metal Manufacturer | Outdoor Vending Machine Enclosures | Industrial Machine Enclosures | Metal Enclosures for Electronics | EV Charger Outdoor Enclosure | Outdoor EV Charger Enclosure | EV Charger Enclosure | Custom Aluminium Box | Custom Steel Box | Metal Box Supplier | Metal Enclosure Manufacturer | Sheet Metal Enclosure Manufacturers | Metal Enclosure Box Manufacturer | Metal Enclosure Manufacturer | Aluminium Box Manufacturer | Outdoor Equipment Enclosures | Aluminium Box Manufacturers | Equipment Enclosures Metal | Metal Enclosure Box | Metal Enclosure | Enclosure Box Price | Sheet Metal Manufacturers | Sheet Metal Manufacturing companies | Custom Made Aluminium Boxes | Custom Made Metal Box | Aluminum Sheet Metal Fabrication | Aluminium Sheet Metal Fabrication | Auminium Tool Boxes Made to Order | Custom Metal Enclosures | Custom Stainless Steel Box | Custom Made Aluminum Boxes | Metal Box Manufacturers | Custom Steel Enclosures | Custom Stainless Steel Enclosures | Custom Metal Box | Custom Aluminium Box | Sheet Metal Fabrication Supplier | China Sheet Metal Fabrication | Custom Sheet Metal Fabrication | Sheet Metal Fabrication Services | Metal Manufacturing in China | Aluminum Box Fabrication | Sheet Metal Box Fabrication | Sheet Metal China | Precision Sheet Metal Fabrication | Custom Aluminum Box Fabrication | Custom Metal Box Fabrication