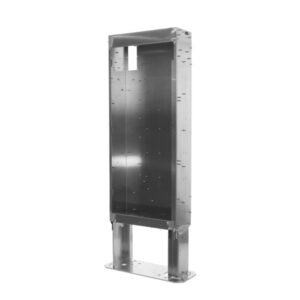 As the awareness of environmental protection increases, new energy electric vehicles and charging piles gradually enter the life of the public. At present, the charging pile is used more in the outdoor, and the use environment is more complex, so the requirements for the charging pile shell material are high, requiring the material to have strong impact resistance, good anti-theft performance, anti-aging and other characteristics.
Plastic has excellent design freedom, light weight, dimensional stability, low-cost advantages of mass production, and is environmentally friendly, and can meet the material performance requirements of the charging pile shell, so it has become a better choice for the car charging pile shell material.
The charging pile shell and charging gun shell can be made of halogen-free flame retardant PC/ABS alloy with good performance of flame retardant, weathering and low temperature resistance. Halogen-free flame retardant PC/ABS alloy material has excellent weather resistance, low-temperature toughness, flame retardancy, good processing performance, UV stability, easy coloring, and can meet the needs of various color formulations, and environmental protection and pollution-free.
Custom Metal Box Manufacturers | Custom Sheet Metal Enclosures | Custom Aluminum Box | Custom Sheet Metal Boxes | Custom Metal Boxes | Sheet Metal Supplier | Steel Box Manufacturers | Sheet Metal Box Manufacturers | Custom Made Metal Boxes | China Sheet Metal Manufacturer | Outdoor Vending Machine Enclosures | Equipment Enclosures | Machinery Enclosures | Machine Enclosure | Machine Enclosures | Industrial Machine Enclosures | Metal Enclosures for Electronics | EV Charger Outdoor Enclosure | Outdoor EV Charger Enclosure | EV Charger Enclosure | Custom Aluminium Box | Custom Steel Box | Metal Box Supplier | Metal Enclosure Manufacturer | Sheet Metal Enclosure Manufacturers | Metal Enclosure Box Manufacturer | Metal Enclosure Manufacturer | Aluminium Box Manufacturer | Outdoor Equipment Enclosures | Enclosure for EV Charger | EV Charging Enclosure | EV Charger Enclosure | Aluminium Box Manufacturers | Equipment Enclosures Metal | Sheet Metal Enclosure | Metal Enclosure Box | Metal Enclosure | Enclosure Box Price | Sheet Metal Manufacturers | Sheet Metal Manufacturing companies | Custom Made Aluminium Boxes | Custom Made Metal Box | Aluminum Sheet Metal Fabrication | Aluminium Sheet Metal Fabrication | Auminium Tool Boxes Made to Order | Custom Metal Enclosures | Custom Stainless Steel Box | Custom Made Aluminum Boxes | Metal Box Manufacturers | Custom Steel Enclosures | Custom Stainless Steel Enclosures | Custom Metal Box | Custom Aluminium Box