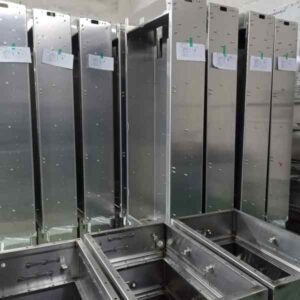 Grinding operations with sandpaper or abrasive belts are basically abrasive cutting operations that leave a very fine grain on the surface of the steel plate. Trouble has been encountered when using aluminum oxide as an abrasive, partly due to pressure problems. Any grinding parts of the equipment, such as: abrasive belts and grinding wheels, etc., should never be used for other non-stainless steel materials before use. This is because it will contaminate the stainless steel surface. In order to ensure the consistency of the surface processing, new grinding wheels or abrasive belts should first be tried on scrap of the same composition, so that the same products for comparison.
Mechanical polishing basic procedures: to obtain high-quality polishing results, the most important thing is to have high-quality oil stone, sandpaper and diamond abrasive paste and other polishing tools and auxiliary products. And the choice of polishing procedure depends on the surface condition after pre-processing, such as machining, EDM, grinding, etc.
The general process of mechanical polishing is as follows:
(1 ) Rough polishing
The surface after milling, EDM and grinding processes can be polished by choosing a rotary surface polishing machine with a speed of 35,000 – 40,000 rpm or an ultrasonic grinding machine. The common method is to remove the white EDM layer using a wheel with a diameter of Φ 3 mm, WA # 400. This is followed by manual oilstone polishing with strips of oilstone with kerosene as lubricant or coolant. The general order of use is #180 ~ #240 ~ #320 ~ #400 ~ #600 ~ #800 ~ #1000 . Many mold makers choose to start from #400 to save time.
(2) Semi-finishing
Semi-finishing is mainly done with sandpaper and kerosene. The number of sandpaper is in order: #400 ~ #600 ~ #800 ~ #1000 ~ #1200 ~ #1500. In fact, #1500 sandpaper is only suitable for hardened die steel (52HRC or more), but not for pre-hardened steel, as it may lead to surface burns on pre-hardened steel parts.
(3) Finishing
Fine polishing mainly uses diamond polishing paste. The usual grinding sequence is 9 μm (#1800) to 6 μm (#3000) to 3 μm (#8000) if the polishing cloth wheel is mixed with diamond grinding powder or paste. 9 μm diamond grinding paste and polishing cloth wheel can be used to remove hairline abrasions left by #1200 and #1500 grit paper. Next, polish with a sticky felt and diamond paste in the order of 1 μm (#14000) to 1/2 μm (#60000) to 1/4 μm (#100000). Polishing processes requiring a precision of 1 μm or more (including 1 μm) can be performed in a clean polishing room in the tooling shop. For more precise polishing, an absolutely clean space is necessary. Dust, fumes, dandruff and saliva can ruin the high precision polished surface after several hours of work.
Custom Metal Box Manufacturers | Custom Sheet Metal Enclosures | Custom Aluminum Box | Custom Sheet Metal Boxes | Custom Metal Boxes | Sheet Metal Supplier | Steel Box Manufacturers | Sheet Metal Box Manufacturers | Custom Made Metal Boxes | China Sheet Metal Manufacturer | Outdoor Vending Machine Enclosures | Industrial Machine Enclosures | Metal Enclosures for Electronics | EV Charger Outdoor Enclosure | Outdoor EV Charger Enclosure | EV Charger Enclosure | Custom Aluminium Box | Custom Steel Box | Metal Box Supplier | Metal Enclosure Manufacturer | Sheet Metal Enclosure Manufacturers | Metal Enclosure Box Manufacturer | Metal Enclosure Manufacturer | Aluminium Box Manufacturer | Outdoor Equipment Enclosures | Aluminium Box Manufacturers | Equipment Enclosures Metal | Metal Enclosure Box | Metal Enclosure | Enclosure Box Price | Sheet Metal Manufacturers | Sheet Metal Manufacturing companies | Custom Made Aluminium Boxes | Custom Made Metal Box | Aluminum Sheet Metal Fabrication | Galvanized Steel Sheet Metal Fabrication | Auminium Tool Boxes Made to Order | Custom Metal Enclosures | Custom Stainless Steel Box | Custom Made Aluminum Boxes | Metal Box Manufacturers | Custom Steel Enclosures | Custom Stainless Steel Enclosures | Custom Metal Box | Custom Aluminium Box | Sheet Metal Fabrication Supplier | China Sheet Metal Fabrication | Custom Sheet Metal Fabrication | Sheet Metal Fabrication Services | Metal Manufacturing in China | Aluminum Box Fabrication | Sheet Metal Box Fabrication | Sheet Metal China | Precision Sheet Metal Fabrication | Custom Aluminum Box Fabrication | Custom Metal Box Fabrication