Sheet metal parts obtained by sheet metal process are mostly made of thin metal sheets and fittings. Because of its light weight, high strength and stiffness, arbitrarily complex shape, low material consumption and smooth surface, it is widely used in daily life and industrial production, and its finished products are widely used in car and truck bodies, airplane fuselages and wings, medical tables, building roofs, etc. According to statistics, sheet metal parts account for more than 90% of all metal products.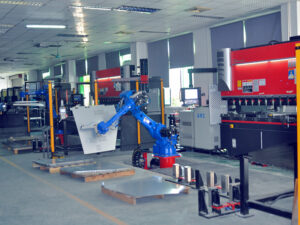 Depending on the processing method, sheet metal processing is usually divided into two categories.
Non-mold processing: A process way to process sheet metal through processing tools such as NCT, laser cutting machine, CNC bending machine, riveting machine, etc. It is generally used for sample making and has higher cost.
Mold processing: The sheet metal is processed by fixed molds, generally there are undercutting molds and forming molds, which are mainly used for mass production and the cost is lower.
Custom Metal Box Manufacturers | Custom Sheet Metal Enclosures | Custom Aluminum Box | Custom Sheet Metal Boxes | Custom Metal Boxes | Sheet Metal Supplier | Steel Box Manufacturers | Sheet Metal Box Manufacturers | Custom Made Metal Boxes | China Sheet Metal Manufacturer | Outdoor Vending Machine Enclosures | Equipment Enclosures | Machinery Enclosures | Machine Enclosure | Machine Enclosures | Industrial Machine Enclosures | Metal Enclosures for Electronics | EV Charger Outdoor Enclosure | Outdoor EV Charger Enclosure | EV Charger Enclosure | Custom Aluminium Box | Custom Steel Box | Metal Box Supplier | Metal Enclosure Manufacturer | Sheet Metal Enclosure Manufacturers | Metal Enclosure Box Manufacturer | Metal Enclosure Manufacturer | Aluminium Box Manufacturer | Outdoor Equipment Enclosures | Enclosure for EV Charger | EV Charging Enclosure | EV Charger Enclosure | Aluminium Box Manufacturers | Equipment Enclosures Metal | Sheet Metal Enclosure | Metal Enclosure Box | Metal Enclosure | Enclosure Box Price | Sheet Metal Manufacturers | Sheet Metal Manufacturing companies