The following takes you through the process of sheet metal processing: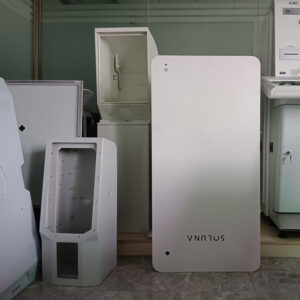 Pre-treatment: Firstly, surface treatment of the product, if there is no position that needs to be sprayed, it needs to be covered in advance; remove the oil and stain on the surface of the product to increase the adhesion of the spraying layer so as to avoid the situation of demoulding.
Electrostatic spraying. Check whether the spreader is good and lift the qualified sheet metal workpiece into the spraying area; spray the sheet metal with electrostatic powder spraying machine. Under the high pressure electrostatic environment, the powder has negative polarity and the powder passes through the electrostatic spray gun to form charged particles adsorbed on the product. The sprayed sheet metal is hung into the high temperature curing oven, the powder is started, melted and leveled at high temperature, after that it enters the constant temperature curing stage, the constant temperature curing time is about 20 minutes, if the product is thicker, the powder curing time needs to be extended, and finally out of the sheet, we can get the sheet metal product we want. This process is relatively complicated, if you need to find a professional manufacturer, then you can get the product you want.
Custom Metal Box Manufacturers | Custom Sheet Metal Enclosures | Custom Aluminum Box | Custom Sheet Metal Boxes | Custom Metal Boxes | Sheet Metal Supplier | Steel Box Manufacturers | Sheet Metal Box Manufacturers | Custom Made Metal Boxes | China Sheet Metal Manufacturer | Outdoor Vending Machine Enclosures | Equipment Enclosures | Machinery Enclosures | Machine Enclosure | Machine Enclosures | Industrial Machine Enclosures | Metal Enclosures for Electronics | EV Charger Outdoor Enclosure | Outdoor EV Charger Enclosure | EV Charger Enclosure | Custom Aluminium Box | Custom Steel Box | Metal Box Supplier | Metal Enclosure Manufacturer | Sheet Metal Enclosure Manufacturers | Metal Enclosure Box Manufacturer | Metal Enclosure Manufacturer | Aluminium Box Manufacturer | Outdoor Equipment Enclosures | Enclosure for EV Charger | EV Charging Enclosure | EV Charger Enclosure | Aluminium Box Manufacturers | Equipment Enclosures Metal | Sheet Metal Enclosure | Metal Enclosure Box | Metal Enclosure | Enclosure Box Price | Sheet Metal Manufacturers | Sheet Metal Manufacturing companies