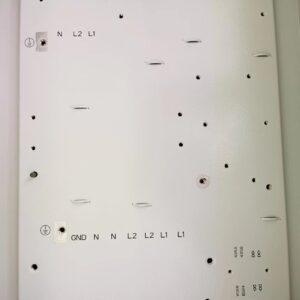 With the improvement of automation demand, industrial robot applications have been expanded even more. In addition to traditional welding applications, robots are also widely used in machine tool loading and unloading, material handling palletizing, grinding, painting, assembly and other fields. The integration of industrial robots and forming machine tools can not only solve the problem of enterprise employment, but also improve processing efficiency and safety, and enhance processing accuracy, which has great development space.
CNC bending machine integration application: robot bending integration application mainly has two ways. One is to bending machine as the center, robot configuration vacuum suction cups, magnetic sub-tension loading frame, positioning table, lower material table, turning frame to form a bending unit. The second is a flexible processing line for plates formed by robots with laser equipment or CNC turntable punching machines, industrial robot travel axes, plate material transfer lines, positioning tables, and vacuum suction cup grippers. The robot achieves full tracking with automatic matching at different bending speeds, and the bending software package also shortens the bending demonstration time from 2-3 days in the past to 2-3 hours.
Press stamping integration application: There are mainly two ways of robot and press stamping integration application. One is single robot stamping loading and unloading, and the other is robot stamping linkage. Compared with robots with linear coordinates, the use of industrial robots is more flexible, does not have equal high requirements for dies, and is easy to integrate. Seamless connection between the autonomous press control system and the robot control system is utilized to achieve optimal coordination between the robot's movements and the press, and the field bus is utilized to maximize the efficiency and safety of the entire production line.
Hot-die forging integrated application: Hot-die forging lines usually consist of two die forging presses, one for stamping and the other for trimming. One robot is responsible for transferring the high-temperature material from the IF furnace to the stamping and forming press, and the other robot is responsible for taking the material from the stamping and forming press and transferring it to the other press for trimming. To prevent the high-temperature stamping workpieces from sticking to the die, graphite lubrication of the die is required after each stamping, which can be done by robots or by specialized agencies.
Welding applications: Welding is the post-process of forming machine plate processing. There are two types of robot welding, resistance welding and arc welding, and welding robot applications account for more than 40% of the overall robot applications. Arc welding application is the core of the robot, configured welding machine, wire feeder, welding gun, fixtures and other components of the welding workstation.
Robotics is a typical representative of advanced manufacturing technology and automation equipment, and intelligent industrial equipment has become the basis for upgrading and transformation of global manufacturing industry. Industrial robots and CNC machine tools are integrated and applied to make intelligent manufacturing and digital workshop and smart factory move from concept to reality.
Custom Metal Box Manufacturers | Custom Sheet Metal Enclosures | Custom Aluminum Box | Custom Sheet Metal Boxes | Custom Metal Boxes | Sheet Metal Supplier | Steel Box Manufacturers | Sheet Metal Box Manufacturers | Custom Made Metal Boxes | China Sheet Metal Manufacturer | Outdoor Vending Machine Enclosures | Industrial Machine Enclosures | Metal Enclosures for Electronics | EV Charger Outdoor Enclosure | Outdoor EV Charger Enclosure | EV Charger Enclosure | Custom Aluminium Box | Custom Steel Box | Metal Box Supplier | Metal Enclosure Manufacturer | Sheet Metal Enclosure Manufacturers | Metal Enclosure Box Manufacturer | Metal Enclosure Manufacturer | Aluminium Box Manufacturer | Outdoor Equipment Enclosures | Aluminium Box Manufacturers | Equipment Enclosures Metal | Metal Enclosure Box | Metal Enclosure | Enclosure Box Price | Sheet Metal Manufacturers | Sheet Metal Manufacturing companies | Custom Made Aluminium Boxes | Custom Made Metal Box | Aluminum Sheet Metal Fabrication | Aluminium Sheet Metal Fabrication | Auminium Tool Boxes Made to Order | Custom Metal Enclosures | Custom Stainless Steel Box | Custom Made Aluminum Boxes | Metal Box Manufacturers | Custom Steel Enclosures | Custom Stainless Steel Enclosures | Custom Metal Box | Custom Aluminium Box | Sheet Metal Fabrication Supplier | China Sheet Metal Fabrication | Custom Sheet Metal Fabrication | Sheet Metal Fabrication Services | Metal Manufacturing in China | Aluminum Box Fabrication | Sheet Metal Box Fabrication | Sheet Metal China | Precision Sheet Metal Fabrication